With pre-defined hardware specifications designed specifically to run a Filecoin storage solution, storage providers can reduce time to market from 6-12 months to 6-8 weeks with servers.com.
---

SAN FRANCISCO, CA - October 3, 2023 – To remove as many barriers as possible to joining the Filecoin decentralized storage ecosystem, servers.com and Filecoin have partnered to deliver data centers on demand.
The OPEX-only, modular data center solution is the fastest, easiest and most reliable way to becoming a Filecoin storage provider. Working in partnership with solutions architects at Protocol Labs, servers.com has pre-defined the hardware specifications necessary to run a Filecoin storage solution - both from a compute and storage perspective - meaning prospective storage providers can simply click a button to order the infrastructure needed to set up a storage provider business.
"We know that when setting up a business, time to market is key. The current infrastructure solutions out there for storage providers take around 6-12 months to set up. That's just too long. We wanted to work with Filecoin to create an alternative option that enables storage providers to get up and running much quicker," said servers.com Web3 specialist James Purton. "With our data center on demand offering, we achieve what other providers do in 6-12 months in 6-8 weeks – from ordering the hardware to having your storage solution out in the market."
As well as faster hardware provisioning and time to market, the partnership also opens the door to more prospective storage providers by removing the need for significant upfront costs. As an OPEX-only model, no capital investment is required up front to get started. There's no need to take out a loan or dip into investor funds. The solution is available on a monthly fee-basis and storage providers can get started from as little as $2,325 per month.
"The more people we can bring into the Filecoin ecosystem, the more competitive the storage market becomes. To do that, we need to reduce barriers to entry. The cost of infrastructure is one of the biggest barriers storage providers have been facing - until now with the launch of this new solution. There aren't many people out there who have the resources, the space and everything necessary to buy loads of hardware and keep it sitting around until they need it," said James.
By renting hardware through servers.com, storage providers get access to enterprise Dell chassis, with next generation AMD CPUs and NVIDIA GPUs. All hand-picked by Protocol Labs in battle-tested configurations based on best-practice from the Filecoin ecosystem. So, storage providers can be confident that the configurations work specifically for decentralized storage implementations and can be relied on.
"Our partnership with servers.com is predicated on increasing Filecoin Storage Provider profitability. The data center on demand solution significantly reduces hardware costs while accelerating speed-to-market" said Stefaan Vervaet, Head of Network Growth at Protocol Labs.
The servers.com solution is modular so it can scale to any size, no matter the budget. It also integrates seamlessly with the rest of the Filecoin ecosystem, including the Protocol Labs one-click Lotus deployment and sealing-as-a-service providers like Aligned to make the solution as lean, cost-effective and technically effective as possible.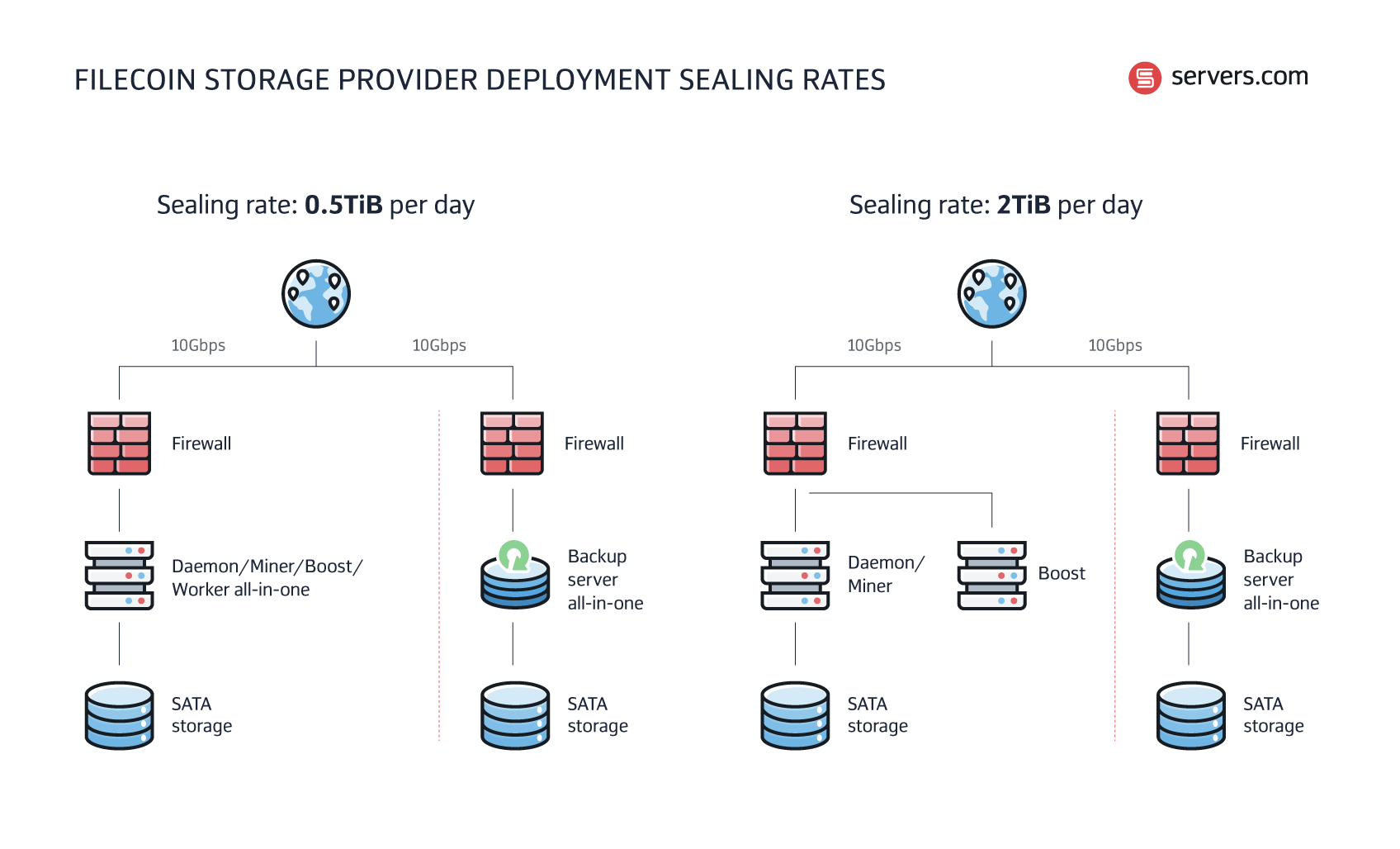 Storage providers will work with a specialist at servers.com to ensure that the solution fits their specific needs. The same specialist will become their account manager and remain with them throughout their time as a customer. Storage providers will also benefit from access to servers.com's 24/7 support.
To find out more about pricing and specifications, contact James Purton from servers.com at:
About servers.com
servers.com is a global IaaS hosting platform, founded in 2014 by a group of hosting industry veterans, with 18 data centers worldwide across North America, Europe, and Asia. Our mission is simple. Make customers happy, keep them happy. We do this by bridging the gap between traditional bare metal hosting and hyperscale cloud; providing bare metal servers with cloud scalability. With pre-racked, pre-stacked server configurations and customisable RAM, disk and networking delivered quickly and cost effectively. Our customer's solutions are designed and managed by dedicated teams of specialists in gaming, iGaming, Web3, trading, adtech and streaming. All underpinned by 24/7 world class support.
About Filecoin
Filecoin, the world's largest decentralized storage network, enables users to store, request, and transfer data via a verifiable marketplace. Filecoin's advanced technology provides a robust foundation to store the world's most valuable datasets. An alternative to costly cloud storage, the Filecoin network offers efficiently priced and geographically decentralized storage, minimizing financial barriers and allowing users to take advantage of its unmatched network capabilities. Filecoin is completely open source, enabling people from all over the world to participate. For more information about Filecoin, please visit https://destor.com